It's the most wonderful time of the year, at least it is for me when we're talking about the November 18th -19th GFAF Expo in San Mateo.  I haven't been able to attend an Expo in over two years (due to life getting in the way) and I'm so excited to be going back for this one and being a featured blogger.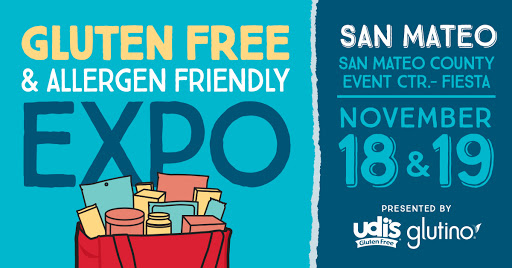 If you've never been to a GFAF Expo, it's a must for anyone who is a Celiac, Gluten Intolerant, Dairy and Nut Free, or any other food allergy or just wants to live a gluten free life and feel better.
Trust me when I say all the big names are there: glutino, Udi's, Enjoy Life, Bob's Red Mill, Shar, just to name a few and there are always new ones who join the Expo as well.
This event is so great because for people like me it's 100% Gluten Free.  What does that mean?? It means I can taste EVERYTHING there!!  That is the best part.  Almost every vendor has a sample of some sort there for you to try. Heaven!!!
Tickets are still available and if you click on the box below you can get a 20% discount before 11/17. But don't wait to buy them at the door because there might not be any left. So use this link and the code ADVANCE to get your ticket now. You won't regret it.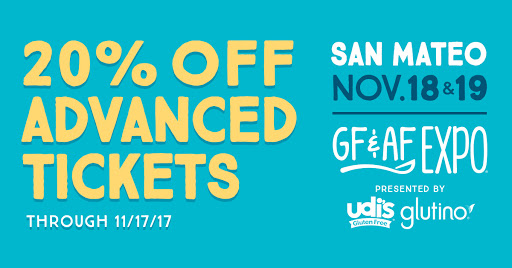 Use Code: ADVANCE at checkout
For me, this conference is a time to make connections with gluten free companies so that I can bring that information back to my readers and see old friend and make new ones.  I hope to see you there!!
Disclosure: This post is sponsored by GFAF Expo. I will be receiving complementary admission to the event in exchange for my participation on the blogging team.  I also receive monetary compensation for any sales that come through my link listed above.
Other Posts You Will Enjoy:
More Goodness is on the way ~